IPTV vs satellite, Sky UK vs Sky Italy? We break down all the best practice advice
Television is still the core of entertainment systems on a superyacht. Full Sky packages including Sport, Movies, TV series and shows, News and Children's channels are popular with owners who wish to have a wide range of viewing options available. However, sports and live events are by far the most requested contents: Football, English Premier League, Champions League, Europa League, Tennis, F1, MotoGP – the list goes on.
Pre-recorded files such as movies aren't usually streamed but transferred and stored somewhere on the boat's video server, meaning a lower level of connectivity is needed. However, for live HD sport events, streaming is a necessity and requires a strong satellite connection; IPTV simply cannot suffice. ETOs must also choose wisely when deciding which regionality of Sky to install. Sky UK has a limited coverage over the Mediterranean whilst Sky Italy uses a different satellite – the Hotbird satellite – which covers the full Mediterranean Sea.
This article will look at how ETOs can ensure they achieve a high-quality streaming experience for owners, guests and crew during live and sporting events.
Satellite TV vs IPTV
What is IPTV?
IPTV is the delivery of television content over Internet Protocol (IP) networks, in contrast to delivery through the traditional satellite format. Unlike downloaded media, IPTV offers the ability to stream the source media continuously. As a result, an IPTV customer's media player can begin playing content almost immediately.
How many Mbps?
Watching TV over IP (IPTV) on yachts is becoming more and more common, but high-quality images such as those used for live sporting events need a higher bandwidth than IPTV can provide. Satellite TV HD channels are usually transmitted from a minimum of 4Mbps, with 4K channels from roughly 8Mbps. 4K channels are not often requested on yachts because currently most of the installed TVs don't support this technology. However, in the next two years 4K televisions will become much more commonplace and the 4K channel offering will need to follow according to market demand.?Indeed, 2018 will bring a 4K option for channels and a dedicated receiver from Sky. 4K is not possible when using IPTV because the network is not strong enough, and so when future-proofing your vessel satellite is a better option.
If yachts purchase enough VSAT capacity (eg 18mbps in download) they can join a single IPTV stream with 4K quality. Of course, this means that if they want to join two contemporary streams (eg a Premier League match and a F1 GP) they have to buy 36mbps. That's why IPTV producers re-encode the original transmission using lower bitrates or other codecs (depending on the hardware/software needed to join the IPTV service installed on board). Sky Go, the streaming service provided by Sky, has a lower bitrate and quality compared to the satellite.
During live sporting events such as the English Premier League, bitrates up to 18mbps have been measured. This ensures impeccable detail definition even on the biggest screen. Sky has a statistic multiplexer, meaning that it can increase or decrease the bitrate depending on needs. When images are faster, a higher bitrate transmission is required. Sky Sports HD tends to have a bitrate range of 12mbps to 18mbps, and EuroSport HD, included in Sky Sport, usually transmits at 10mbps with peaks at 14mbps.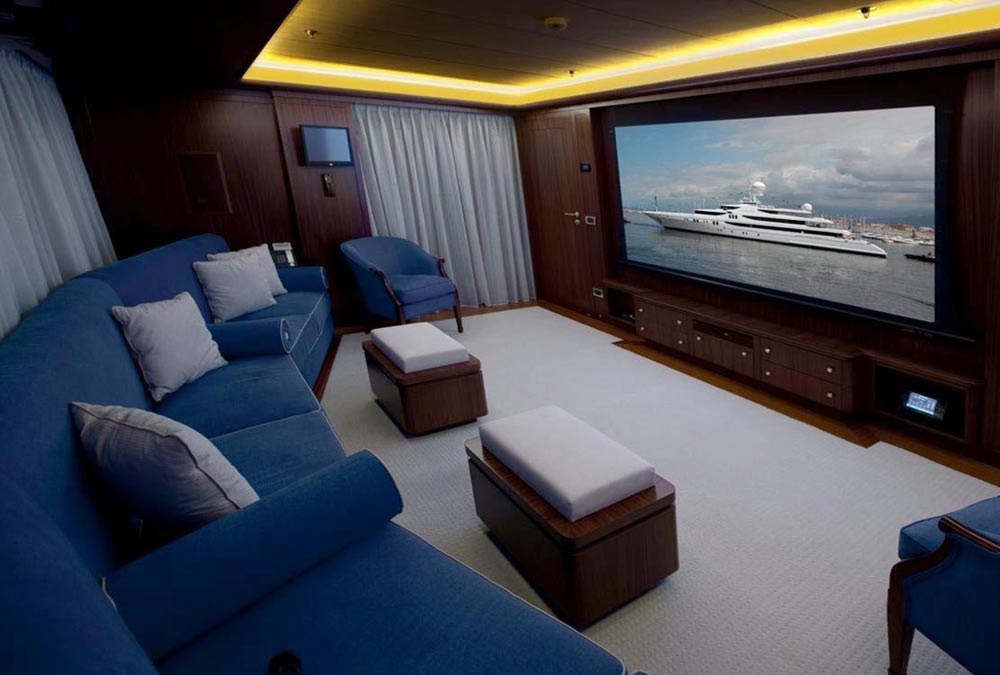 Refit and repair
It also makes more sense to use satellite for on board viewing when considering Refit and repair procedures. This is because it is well-established technology. Sky HD Receivers are easy to integrate into any AV system, so fittings can work around your vessel's busy schedule. What's more, TVRO systems are well-known by many technicians, and so spare parts and support can be found almost in every port. IPTV is a newer technology, and so product knowledge is not guaranteed in the industry.
Indefence of IPTV
However, most VSAT service providers are able to deliver IP live streams over their networks, and this multicast technology is well known and used. Furthermore, budget consideration work in the favour of IPTV; satellite TV subscriptions are not cheap because of the rights required.
Sky UK vs Sky Italy
After the recent change of footprint coverage for the Astra1 satellite at 28°E from which Sky UK broadcasts, most popular channels are no longer available or are limited in the Med area. This has significantly cut channel availability for Sky UK viewers on yachts.
Sky Italy is Sky's Italian digital satellite television platform, and is a major sports broadcaster. It broadcasts on Hot Bird 6/8/9 satellites at 13.0°E for excellent coverage in the Mediterranean Sea area and beyond. Don't worry if you don't speak Italian. For the majority of Sky Italy's channels, foreign-sourced content is broadcast with an option to choose between Italian and English language soundtracks. It is recommended that yachts set the decoder to the "Original" language instead of Italian, as this means that TV watchers will not need to choose the language each time they change channel. The original language for film and TV series is usually always English. The original languages for live events commentary is chosen by the production (eg Liberty Media for F1) and/or by the place where the event takes place (NFL games in the US are in English). Most of the sport events are originally produced without commentaries, just sounds (or noises): eg F1, MotoGP, Tennis, some European football championships.
These Pay TV services are encrypted in NDS format, meaning the content can only be viewed by those who have subscribed. However, ordering of live events and rapid changing of channel packages and is always possible through access flags, which can be downloaded to the subscriber's card.
Never miss a game
For any sports lover, missing the match of a favourite sports team is a disaster. And though IPTV may promise cheaper live streaming, ETOs/ITOs must be careful that they are not setting themselves up for failure when guests are unable to watch these events in HD. Likewise, though Sky UK may seem like the obvious choice for English speaking sports fans, its limited coverage could result in a very dissatisfied owner if their most-watched channels are no longer available.
Streaming live sports on your yacht should be no problem when you follow this best practice advice. Happy watching!